...has it been a LONG time since I had a reason to update this page!

First of all... before I say another word about this Jeep... I owe my buddy Keith a HUGE THANKYOU! He made this whole project happen and basically gave me this Jeep. Thanks Keith!!!

It's a project. It's a JEEP! It's been years since I had a Jeep to play with... so I'm pretty excited about this one. Lotsa' rust... but hey, this is the Salt Belt of the U.S. so whaddaya expect. On to the pics.......

...Pics on this Jeep are clickable...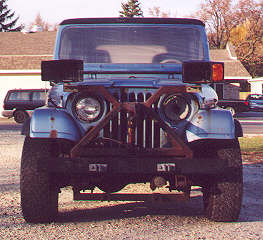 Cool... an underhood plow set-up!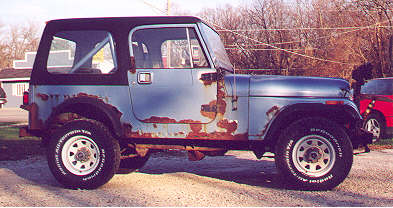 I need a windshield glass. The frame is solid (thanks Keith again) and I have the rubber... just need a glass.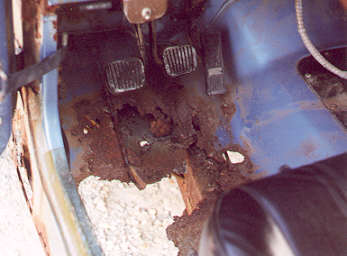 Okay so it needs some sheet metal. That spot of frame happens to be in the perfect for a foot rest for test drives. (Hopefully I will remember to take pics as this project evolves)! That's the worst spot as far as the floors.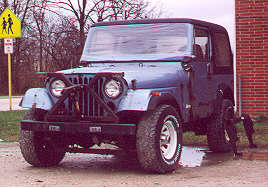 Well at least it's a little progress (okay, so it's just a headlight). What you can't see is the wiring that I straightened out under the hood to get the stock lights working again. Nothing too drastic.
DETAILS:
It's a 1985, and even for all the body rust, the frame looks to be pretty solid still. That's the hardest to find around where I live... an old project CJ that has a frame solid enough to make the thing even worth working on.
Six cylinder, five speed, and the 4x4 works! Runs but has some idleing issues (what old Jeep doesn't at first)? Probably need to rebuild the carb and maybe check out some computer-oriented connections.
I'm going at this one slow and lowbudget. Hopefully the local P.D. will give me a break for a while on the tow stickers.
---A LITTLE BIT OF AN UPDATE---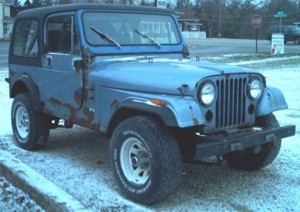 Finally got a front windshield installed. $75 installed for a used windshield glass. (Guess that's better than me breaking it and still being in the same boat)! Installed the wiper linkage, visors, and defrost vents myself.
Getting closer! Still need a bunch of sheet metal and a lot of "going through stuff" to get this puppy back on the road.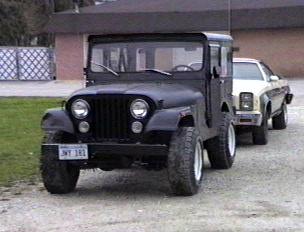 My first... a 1979 CJ5. Yes, that is an earlier '70s hardtop, doors, and matching windshield! (Couldn't pass the deal on them up)! I got to do some "learning" on this one.
---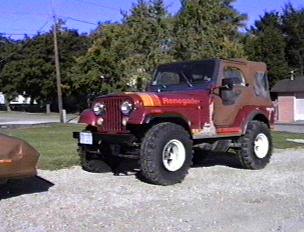 Traded a way-cool '81 Camaro for this one... most people thought that was crazy... I wanted a Jeep!
---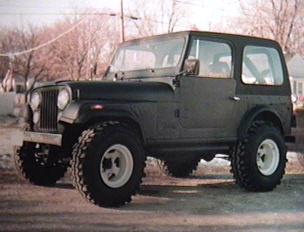 Got this one while I still had the red CJ5 (above). It inherited the wheels, tires, and extended shackles.
When I went to sell the CJ5, everyone wanted the CJ7!
---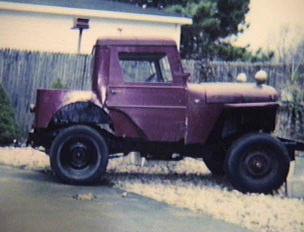 What a wierd one! It was a CJ5 frame with a fiberglass flat-fender body, but someone had grafted the CJ5 front end back on! (Don't blame me... I didn't do it)! I wanted to find the correct grill and windshield for a flat-fender, lose the '5 parts, and straighten the body up on the frame. Too much work at the time!
---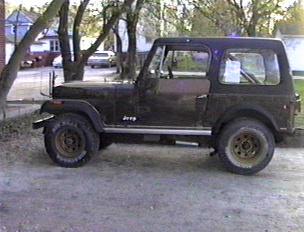 Got this one CHEAP. And it had the CLEANEST body of any Jeep I've ever owned, although you can't tell by this bad picture! It needed an engine badly though. Guess I "lost it" when I got rid of this one... it was WAY worth a new engine!
---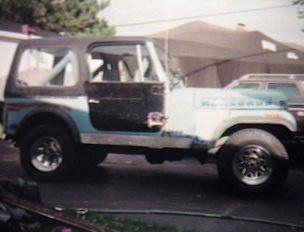 I consider this Jeep a mistake. I traded a '79 Bronco for it. I knew the rear frame ends were rusty, but drove it anyways. Three days later, I hit a bump and thought it felt a little wierd... the frame end on the passenger side was GONE! Lost out big-time and had to rush out and buy a beater four door Malibu to get to work the next day!