MY OLD CARS
This page is dedicated to some of the old cars that I have owned over the years. Some I miss and would take back in a heartbeat, some are on here... well, just because.
Most of the pics average around 40K to 60K so they shouldn't take too long to load.
At the bottom of the page I'm making a section of my buddys cars. Check them out too!
---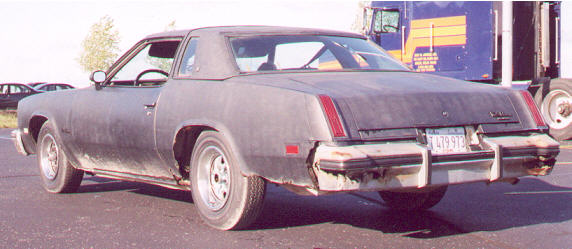 1977 Cutlass
It's an ugly one... but it runs pretty good. I currently own this one. Has a 350 Olds engine with a Q-Jet. (It has an off-idle stumble but really boogies when the secondaries open up). No clue if I'll ever do any "real" bodywork to it... but I sure wish it had better bumpers!
---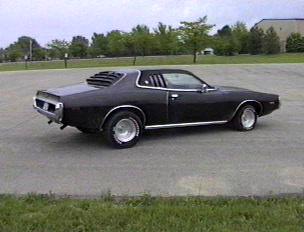 1973 Charger
"Ouch!"... That's the sound of me kicking myself in the butt for getting rid of this one! This car had to have been the fastest car I ever owned. It definitely got the most compliments!
440 engine / 727 Automatic.
---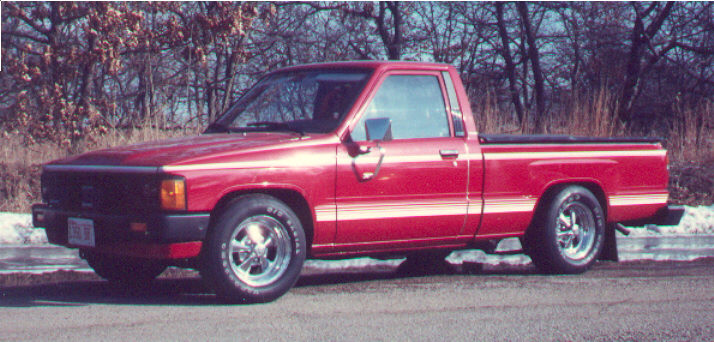 1986 Toyota Pickup
Definitely a fun ride! I lowered this truck when there was virtually no one else around this area with a lowered truck. The tires rubbed and it rode bad, so I put it back to original. Then I got bored and did it all over again. My friends called this the "Yo-Yo Truck"!
---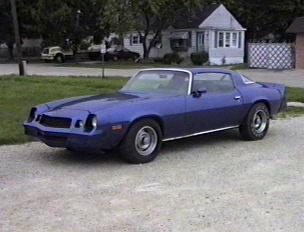 1980 Camaro
I bought this one cheap because it needed an engine and trans which I took out of the ElCamino. Had a Quadrajet carb, headers that came with the car, and I added a new dual exhaust. It was a very clean car!
---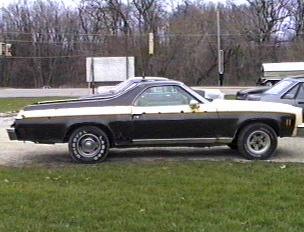 1977 El Camino
Good, reliable, rusty but fun transportation! Vette rear rims were from a parts ElCo that I had picked up. Donated it's engine to the Camaro above. (I hated to do it but it was pretty rusty).
---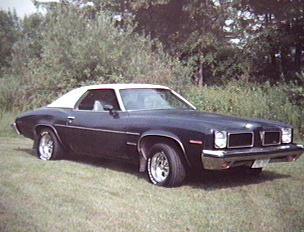 1973 Lemans
Big block 454. No, that's not a misprint... it really had a Chevy Big Block! The car was a bit past it's prime but could spin the tires forever. I'll never forget beating an (at that time) brand new Iroc-Z in it on the way to work once... the guy was not a happy camper!
---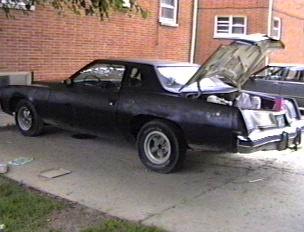 1975 Grand Prix
It was an ugly tank but I liked it! 400 engine, buckets, console, power windows, tilt steering, posi rear, and a fun car to drive! I actually owned it three times due to telling someone I'd take payments and then getting only one payment. Later I sold it and then months later saw an ad in the paper for it and bought it back again!
---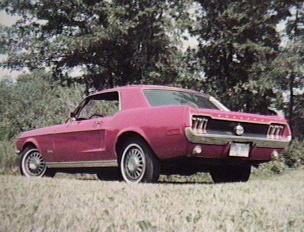 1968 Mustang
Bought this car from a Ford mechanic. I loved this car- it looked MUCH better with mags but I can't find a picture!
Found the picture with mags! It's a bad pic but if you use a lot of imagination... (trust me it looked tough with mags)!
---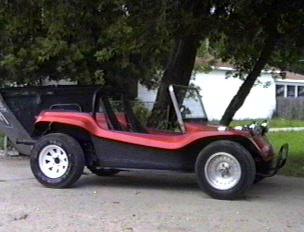 19?? Dunebuggy
What a project! I had to put in the engine, add seats, and clean it up a bunch. I never did get it to run right, but it handled like a slot car! I'd love to own another one some day.
Here's some early pics...
Early on in the fix-up.
Engine just installed. That's the engine donor sitting behind it (Came with the deal).
---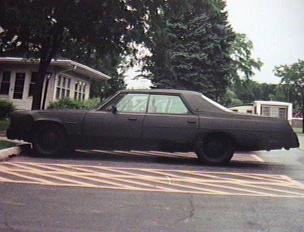 1977 Newport
Umm, yes, I went a little nuts with the spray paint! Painted everything right down to the hubcaps and whitewalls black! The car had a 400 engine with the infamous Leanburn System. I learned that replacing Leanburn parts can be very expensive!
---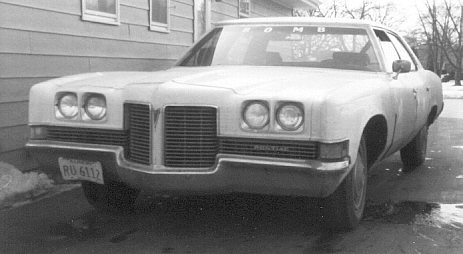 1971 Catalina
This was my very first car. I really hated it at the time but it brings back a lot of memories now! It had a 350 engine. I'm not exactly sure what I was thinking at the time but I painted the valve covers John Deere green! Then there was the time I took out the front inner fenderwells... (Dad convinced me that they were there for a reason so I put them back in)! What can I say, I was young, it was my first car!
---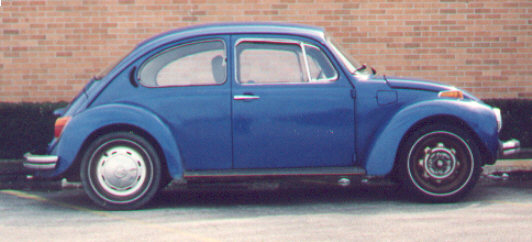 1973 Beetle
Yes the heat was bad, but the car was fun to drive! I got this one with a bad engine and picked up a donor Bug to replace it. Very educational at the time because it was my first experience with a VW engine.
Another view
---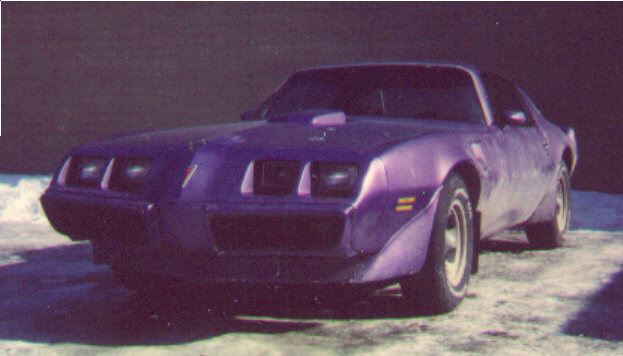 1979 Trans Am
First of all... I'm not responsible for the paint... I got it that way. This car had the Olds 403 and it did some serious boogie! I owned it over a winter (great winter car by the way- YEAH RIGHT)! I totally lost my marbles by getting rid of it (see Chevy van below).
---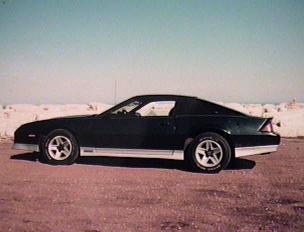 1985 Z28 Camaro
I loved this car and want another one some time! Comfortable, enough power, and handled great. T-tops are a blast! Definitely a fun summer car!
---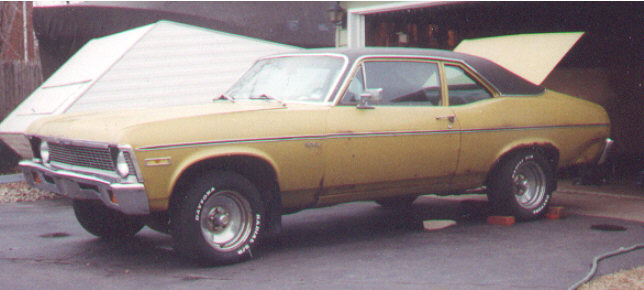 1972 Nova
Somewhat of a project car... I put in a cam, aluminum intake, Q-Jet, and upgraded to electronic ignition. It was a blast to drive after that but was pretty much a waste as the car was too rusty to take serious. When I drove down the road I'd have rust fall in my lap from above the windshield... and I'm not talking "flakes" of rust either. Sometimes I'd wonder what was holding the windshield up!
---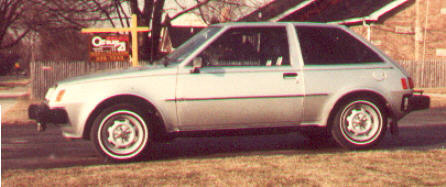 1982 Champ
My second car. (Yes, these pics are very out of order)! Looks like a "putt-putt" car, but this model had the economy-performance shifter. For a 4-banger it boogied in the performance range! I was always getting asked why my car had two shifters.
---


1978(?) Cherokee w. plow
Somewhat of a mistake... very rusty and the plow was almost completely useless. There were no plow cables running into the cab and the lift piston leaked like crazy. Not to mention the see-thru body. Big-ol' 360 in this dude though!
---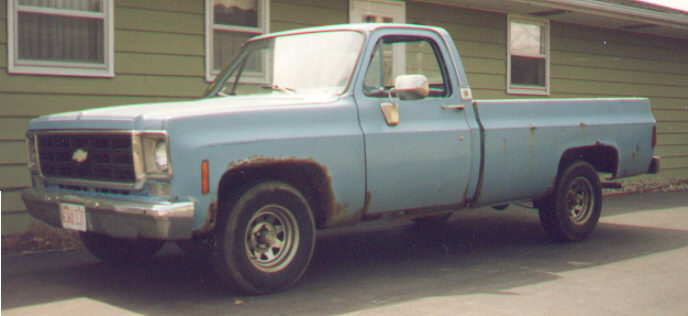 1977 Chevy Pickup
Very dependable transportation that came in handy for hauling occasionally. It had a strong running 4 bbl 350. Besides maybe swapping an alternator I don't think I ever had to fix anything on this truck.
---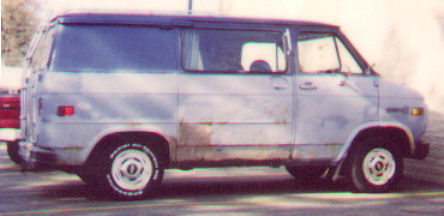 1978 Chevy Van
I totally lost ALL of my senses in acquiring this vehicle! What was I thinking? I traded my 1979 403 T/A for it. I guess I REALLY wanted a van at the time! It was a 6 cylinder, MANUAL trans with the shift on the column. Definitely a "momentary lapse of reason"!
---


1966 Ranchero
Nope, it's not an El Camino. This truck... car... (?) was pretty clean for it's age. It had a good running 289 V-8. Not sure what I was thinking by getting rid of this one either.
---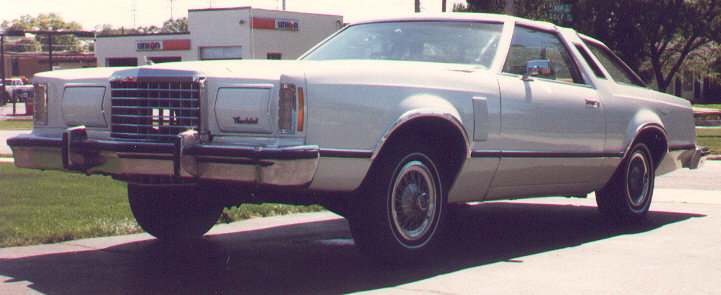 1977 Thunderbird
Most definitely not a picture of the car in it's prime! Rebuilt the 302, had the tranny rebuilt, added mags and it was one of the most comfortable cars I ever owned! (But before all that it was known as the bugfogger)!
---
Friend's Cars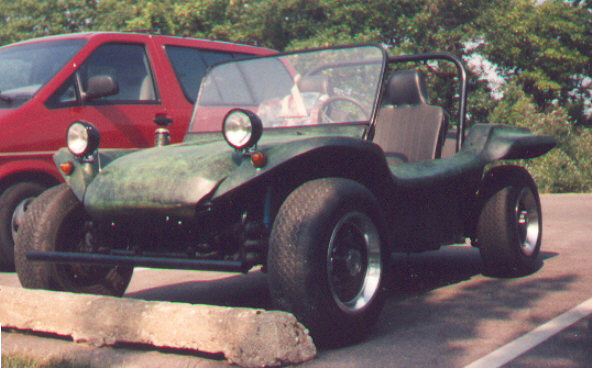 Keith's Dune Buggy
This was one totally cool ride! My friend Keith got this one in almost start-from-scratch form and put it all together! Basically it was the VW pan and a 'glass body. LOTS of work! I know he did lots of brake work, and added a cool paint job.
Another veiw
---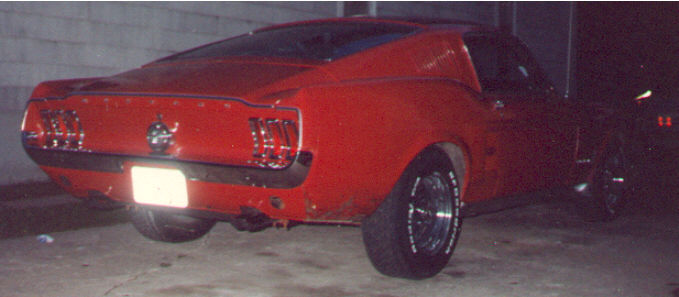 Joe's Mustang
Just found this picture not long ago. Joe was a friend of mine WAY back. Unfortunately it's been a long-ol' time since I've seen him or the car.
Here's what I remember of the car; it had a 289 with a Holley 4bbl. Automatic, and a Ford 9" Detroit Locker. I know Joe did a lot to the car but I can't remember all of the story. The car had about the coolest license plates around... "GO WILD".
E-mail
Back to Index